Z80-5 Automatic Baby Wet Tissue Production Line
(Suitable for 30-120 pieces packing of wet wipes)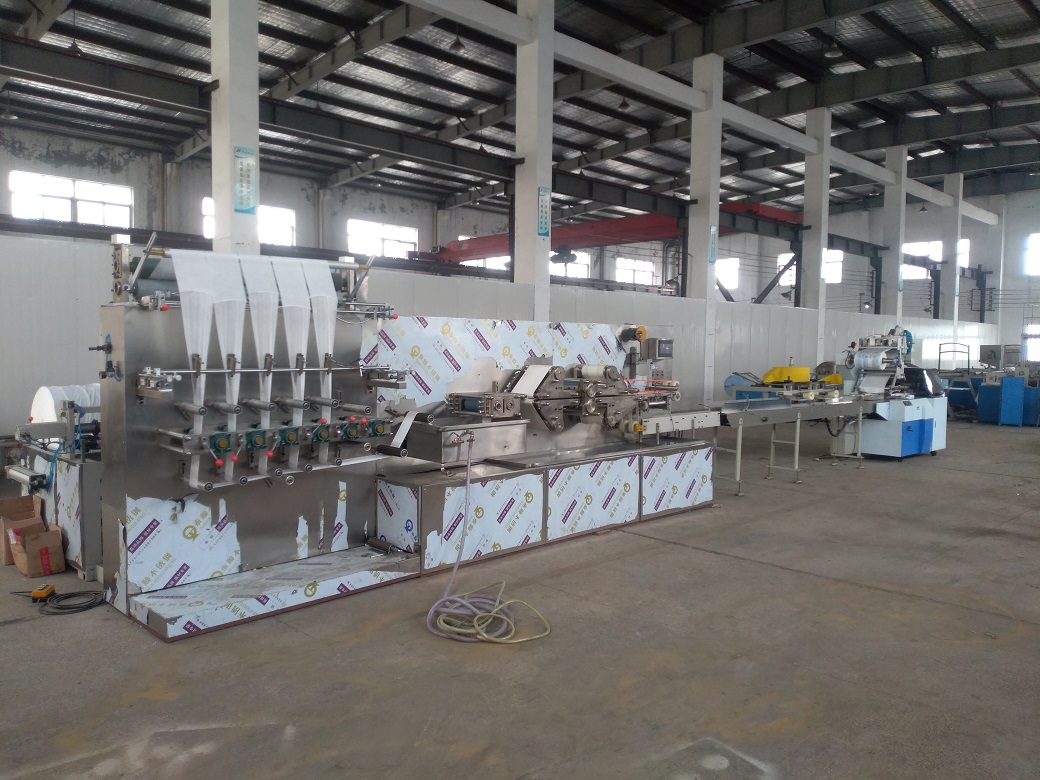 I. Performance and characteristics of the equipment.
1. Use range: 30-120 pieces/bag. Baby wet wipes, industrial wet wipes, kitchen wet wipes, household wet wipes and so on.
2. Working principle: (1 roll of material feeding → online slitting → automatic folding → automatic liquid filling → automatic cutting → automatic stacking → automatic counting) → wet wipes waiting. Material transport → (into the packaging machine → film roll unrolling → print production date → perforation → labeling → bag making → back seal → pin cross seal) → finished output, the whole line automatic completion.
3. Equipped with a set of 1250mm slitting machine, which can slit large rolls of material into the desired width of wet wipes, up to 6 channels of wet wipes.
4. The machine is equipped with 6 sets of folding devices, which can be folded in N, V, C type; the machine is equipped with servo fixed length cutting and servo automatic stacking, which can be set freely on the touch screen.
5. Orbit: to achieve the folding machine and packaging machine speed articulation.
6. 450 type reciprocating packaging machine by: reciprocating packaging machine + code machine + punching and labeling machine constitutes.
7. Marking machine: Adopt ink wheel for marking, controlled by independent servo motor for marking position, which can be selected on touch screen.
8. Punching and labeling machine: it is composed of punching machine and labeling machine, which are driven by independent servo motor and can be selected on the touch screen.
9. Reciprocating packaging machine: according to the actual requirements of the adjustment of bag forming machine width, height; cross-sealing pin mechanism by the reciprocating pin device constitutes; back-sealing, cross-sealing by an independent PID constitutes, the temperature can be freely according to the actual production needs on the touch screen control.
10. The equipment adopts imported PLC program control system, computer touch screen display, frequency conversion and joint control; the electrical parts are wired in a reasonable manner, beautiful, elegant and easy to operate.
11.The whole machine steel structure frame is made of national standard high quality 45# channel steel welded together, and the surface is treated with antirust spray paint, the electrical appliances are made of CHINT electrical appliances, the screws, nuts and other standard parts are made of national standard consumables, the screws which are easy to affect the finished products are made of stainless steel, the whole machine has compact structure, stable high-speed operation, stable performance, simple operation, beautiful appearance, stable operation, it is the best choice for the production of non-woven bags. A great choice for wet wipes!
II. Technical parameters of the equipment.
| | |
| --- | --- |
| Equipment model | Z80-5 type |
| Production speed | 15-25 bags/minute |
| Voltage/Frequency/Total Power | 380V+220V/50Hz/10.5kw |
| Wipes Size | Length ≤ 200mm; Width ≤ 120mm; Height: ≤ 55mm. |
| Bag size: | length≤430mm; width≤120mm; height≤60mm. |
| Film roll material | OPP; PET+PE; composite film. |
| Film roll width | ≤450mm. |
| Folding machine: | Dimensions 6800mm long x 1000mm wide x 2200mm high |
| Rail Dimension | L3000mm×W350mm×H1100mm |
| Packing machine: | Dimension 2300mm long x 1000mm wide x 2300mm high |
| Equipment weight | 4500kg |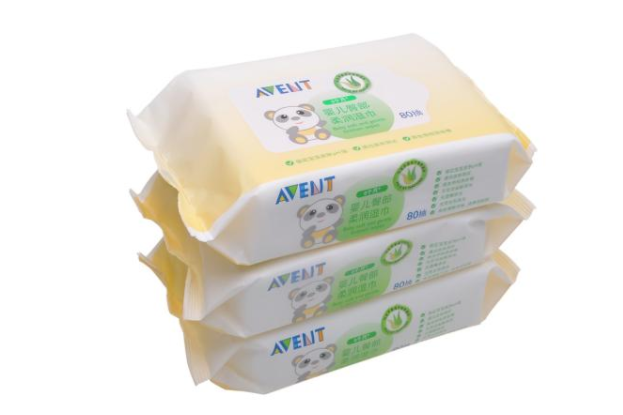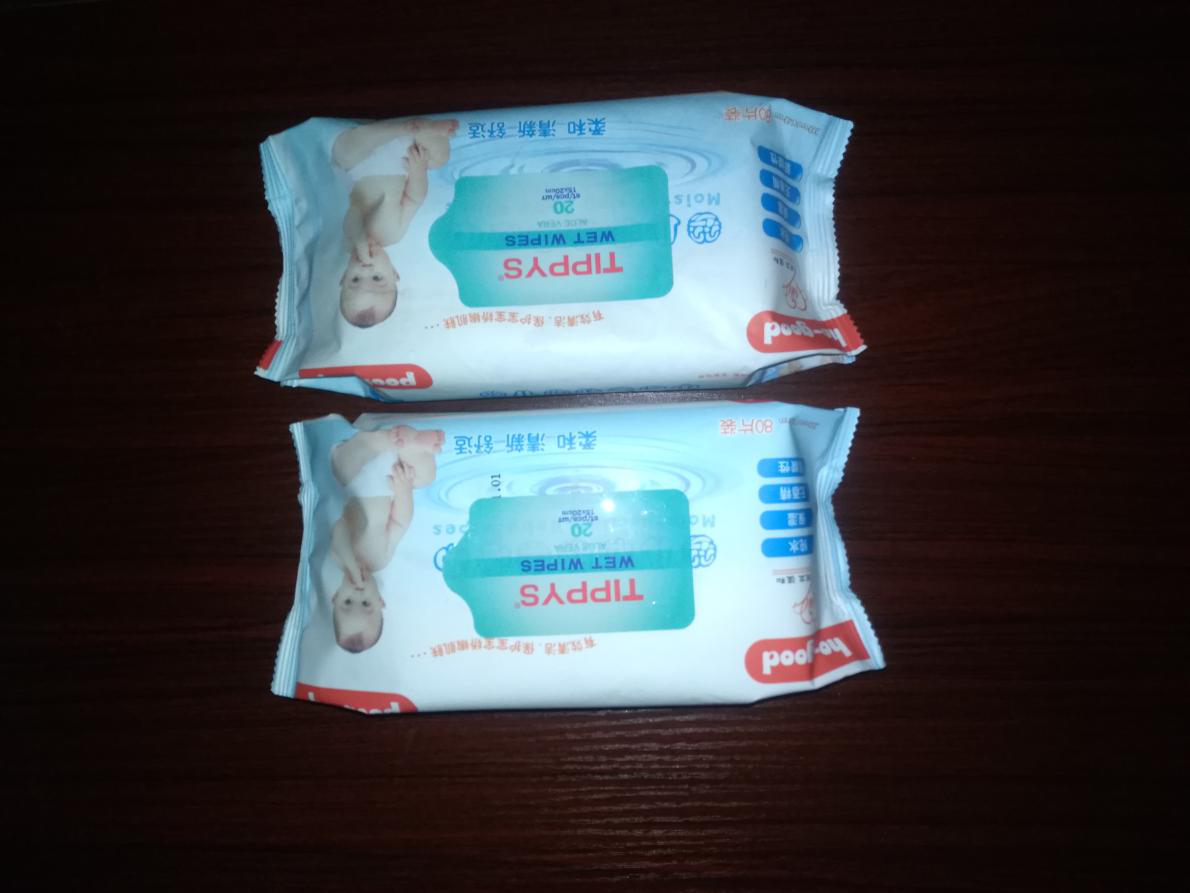 Welcome to visit Qualipak Group website. If you are interested in our equipment, please feel free to contact us! We will provide you 7*24 service!